Poynton Dippers run land based training each Monday night at the leisure centre.  The sessions are led by Dave Miles and supported by coach Chris.  Dave is an Active IQ Level 3 Diploma in Fitness Instructing and Personal Training.
Both Dave and Chris have been running these sessions for some time now and the sessions remaining extremely popular with our swimmers.  The sessions are aimed at swimmers who are 10 years old and above, and open to all of our squads.  The session exercises are adapted to meet the needs of those of different ages and levels of fitness.
During lockdown Dave and Chris recorded a number of Youtube videos to help our swimmers continue their training when stuck at home.  Those videos continue to be available for anyone to follow and also give you an idea of what to expect from land training if you've not been before.  Thank you to Dave and Chris for all their hard work in putting these together.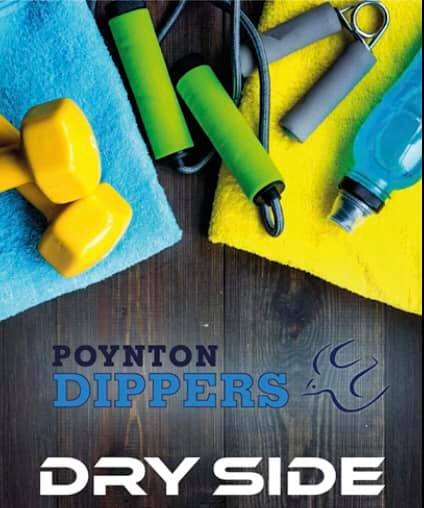 Booking Information
You will be sent an invitation for dry side in advance of the next weekly session.  Simply indicate if you can attend, or not, choosing the appropriate session if there are multiple available.
Once the session is completed, an invoice will be raised for your swimmer, and appropriate dry side fees collected via your Direct Debit.  The cost from 1st Jan 2023 will be £3 per session.
For those planning to attend for the first time please complete the attached medical questionnaire and hand it in at your first dry side training session.  You can download the form here.
The sessions will be planned appropriately so they can be adapted to the varying strengths and fitness levels of those attending.
Bring a water bottle and towel to each session.
Go Dippers!